Welcome to Gradara
GRADARA
Gradara is a wonderful medieval village situated on the sweet Marche hills, only  three kilometers by the sea.  Gradara Castle is a fairy-like place with a magical atmosphere. Enjoy your visit!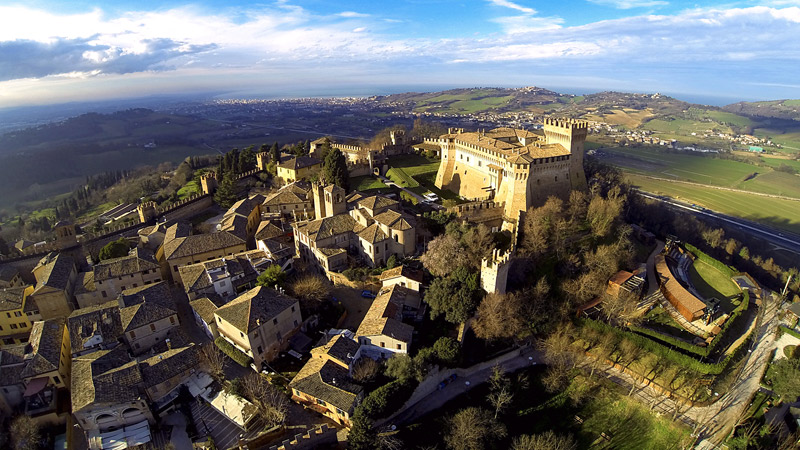 WHAT TO SEE
Fortress
The Fortress (Rocca di Gradara) is a jewel of Italian fortified architecture.
Here in 1289 took place Paolo and Francesca's tragedy, immortalized by Dante in his Canto V of the Divine Comedy.
Castle Walls (Patrol walkways)
Everydays it is possible to stroll on the 300mt. panoramic walk, along the ancient Ramparts Walk and enjoy, from one side the splendid panorama
Historical Museum
The Museum encloses a collection of  armours, torture and peasant objects which testify the lifestyle of Gradara through the passed centuries. Here it is possible to admire the only visible section of tuff caves, which undergoes the village in a kind of subterranean net of tunnels.
Falconry  "Il teatro dell'Aria"
Inside the open-air theatre is a park with up to 70 birds of prey, which can be admired during the visit or during one of the many falconry shows
GRADARA FOR KIDS
Gradara is "The castle made for kids" with many events and activities dedicated to children:
Guided tours
Guided tours of the castle and medieval village by the town jester and friends;
Activities – workshops
"Monday for kids" fun for the whole family (June- September)
"Walking with Jester" and "At the Malatesta court" for groups (year round)
"Gradara at play" for schools and groups (year round)
EVENTS
The Magic Castle Gradara
Fantasy festival
shows, activities, games and more for kids 4 – 104 years old (August 4-9)
It doesn't stop here! There are always things dedicated to kids at every event in Gradara!
The last moon of Gradara - medieval adventure game by real (July 21-22)
Gradara Zombie Walk (September 23 -24 -25)
Gradart- the accessible castle: exhibitions, shows, whorkshops and more (mid October, odd ended years)
Historicamente: playing in history,  history at play – living history (mid October, even ended years)
Gradara Halloween (28th October – 1st November)
The Christmas Castle (end November -January)
Food & drinks
Delight yourself at Gradara's restaurants and osterie! Traditional Marche-Romagna cuisine, antique taste dishes and fresh ingredients. Year round there are wine and food events and medieval dinners.
THE BEACH AND THE SEA
The Gradara Castle overlooks  the Adriatic coast from a panoramic view. The nearby coastal towns of Gabicce Mare and Cattolica are the ideal holiday destinations for families offering hospitality, an array of  services, and Blue Flag beaches.
In Cattolica on Saturday June 3rd  during the Fairy Tale Regal Academy of Gradara- another event, Mia and Me Flower Emotion will also be held. Kids will be able to meet their favourite characters from the Rainbow animated series on the same weekend.
SPORT AND NATURE
Monte San Bartolo Natural Park with its 23 kilometres of panoramic roads crossing woodland views, rural landscapes, castle and coastal lookouts,  along with its many hiking trails  offer many recreational opportunities for the whole family. Sport enthusiasts must visit Tavullia, the home town of Valentino Rossi, with stop offs at Motor Ranch VR46, the Official Fan Club office and other symbolic places to the motorcycle world champion.
ATTRACTIONS
Amusement Parks Riviera dei Parchi
With 11 Parks scattered along the coast of Emilia-Romagna, the Riviera dei Parchi - Theme Park Riviera is Europe's largest Amusement Park district.
Acquario di Cattolica (10 Km.) – Fun and edutainment at the Cattolica Aquarium, the biggest Aquarium of the Adriatic coast. Let your emotions flow at the Cattolica Aquarium, an entirely different leisure experience that brings together education and quality entertainment with the promotion of culture and environmental awareness
Oltremare a Riccione (15 Km.) - Everything changes and evolves, flows as water – and the Oltremare marine park has flowed a long way: here human visitors meet dolphins and nature in a completely new and different experience, generating emotions never felt before
Aquafan (15 Km.) - Established in 1987 on the hills around Riccione, Aquafan has good reason to be considered Europe's no. 1 water park. After 28 years, it is still one of the most popular destinations for those seeking unique emotions and fun
Fiabilandia (20 Km.) - Visit the place where imagination meets reality! Located between Rimini and Riccione and completely surrounded by nature, Fiabilandia is a child's dream come true, a wildlife reserve devoted to amusement. Here fables, attractions, shows and wildlife all contribute to a unique experience made of fun and education, specially designed for children and families.
Italia in Miniatura (30 Km.) - Italia in Miniatura is a 3D reverie where one fails to trust one's eyes, where reality exceeds imagination in a triumph of the creative mind that celebrates Italy's historical, architectural and cultural heritage. The park tells the tale of the great beauty of the country by representing it faithfully and in astounding realistic detail, only... in miniature.
Mirabilandia (70 Km.) - Mirabilandia is like an adrenaline rush of unforgettable emotions and pure fun. A few miles from Ravenna, Italy's largest amusement and water park provides plenty of exciting sensations as well as relaxing moments amidst luxuriant vegetation and flowers.
GRADARA ON THE WEB
Official site for Tourist Information :
Facebook:
Gradara Capitale del Medioevo: https://www.facebook.com/Gradara/
Gradara Innova: https://www.facebook.com/gradara.innova/
Pro Loco Gradara: https://www.facebook.com/ProlocoGradara/
CONTACT US
IAT Tourist information office - Gradara Innova
tel.0541964673; 3311520659
e-mail. info@gradarainnova.com
Pro Loco Gradara
tel.0541964115; 3401436396
e-mail. info@gradara.org
GETTING HERE:
by car
Motorway A14 exit Cattolica: SS16 towards Pesaro - follow signs for Gradara (Gradara Center, Gradara Castle or Piazza Mancini)
by autobus
from Pesaro – Gabicce – Cattolica
Autolinee Adriabus - line 130 - (return line 131) /year round
Autolinee Adriabus – line 80 - (return line 81 ) / in Summer
from Rimini – Riccione – Misano Adriatico
 START Romagna line 125 or line 134 to Cattolica (year round)
Then go to Gradara by  bus  - Autolinee Adriabus line 130 (year round) or  line 80 (in Summer)
website Autolinee Adriabus
websito START Romagna- orari e percorsi (bus timetables and routes)
by train
 FFSS Cattolica Train Station
then go by bus - Autolinee Adriabus line n. 130 towards Gradara
website Trenitalia
website Autolinee Adriabus
 by plane
International Airport of Rimini and San Marino "Federico Fellini"   - Rimini Miramare (25 Km. far from Gradara)
Airport "delle Marche" Ancona Falconara (72 km)
Airport  "G. Marconi" Bologna (145 km)
by Tourist Train from Cattolica and Gabicce
In Summer it is possible getting to Gradara by Tourist Train (on the road)
Departures from Gaabicce Mare and Cattolica